Every year, we use our AGM to reflect on the last 12months of diving and club activities. We have reports from our committee members, we give out our annual club awards and vote in next years committee.
Committee Update
This year, we said thank you to our outgoing Dive Officer Michal, Equipment Officer Mark and Training Officer George and welcomed to the Committee Henry as our new Social secretary. We also had a few committe members shuffle positions as well as some stay in their positions:
Chair – Brian
Secretary – Grace
Treasurer – Andrew
Training Officer – Emma
Membership Secretary – Liam
Comms Officer – Nic
Social Secretary – Henry
Boat Officer – Steve
Equipment Officer – OP
Diving Officer will be voted in by the committee in our first meeting on the new term.
Club Awards
Every year we give out 2 prestigious awards for Diver and Club Person of the Year that are voted for by our members.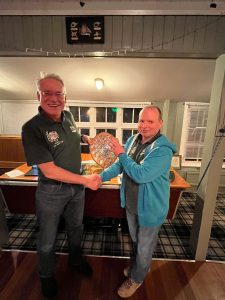 Diver of the Year is an award presented to members than have used the last 12months to continuely advance their diving skills. This years it was awarded to Mark for attending almost all of the club trips, making good progress to completing Dive Leader and upskilling with his new twin set configurations.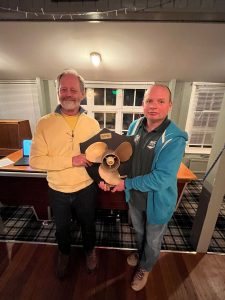 Club Person of the Year is awarded to a Putney BSAC member that has gone above and beyond and contributed emensely to the club over the last year. This year, the club voted for Steve, our Boat Officer, for all of his hard work and perservence to get our new rhib Femti up and running. Huge thank you to Steve – we're all very excited to get out on the boat diving next season.
The final award we present at our AGM  is the Skomer Claw, presented for the biggest diving related mistake or mishap. This year, due to one mishap (that managed to not actually win the award itself) we got a new award, the Stoney Diver, for the runner up to the Skomer Claw. (To read more about where this award came from check out the Stoney Trip Report)
Winner of the Skomer Claw: Mark – Despite it already happening once this year, Mark didn't learn from other mistakes and managed to take his phone to 35m on the Markgraf in his dry suite pocket.
Runner Up and Winner of the Stoney Diver: George – After diving got blown out, George made the most of it in Swanage's 'The Club".  But he didn't leave much to the imagination on his return back to the hostel for his fellow room mates following a late night shower.
Congratulations to all of our award winners, a massive thank you to our outgoing committee members and good luck to this year newly elected committee – here's to an amazing next 12months.