You can't possibly get blown out in the Red Sea, right?
Yes, a slight exaggeration – we didn't miss any dives, but the itinerary had to be altered to account for the strong winds.
The trip started in the Marriott hotel in Hurghada (some making use of an extra days' annual leave to relax before boarding the boat) where we departed on Saturday morning, heading north for a check dive before reaching Abu Nuhas.
Shaa'b Abu Nuhas is a great place for wreckies given the 4 wrecks which crashed into the reef at various points. Over the next day/two days the 4 we dived the Chrisoula K, Carnatic and of course the Ghiannis D (a picture that most divers will have seen before). Some hectic rides out on the tenders but worth it for the dives.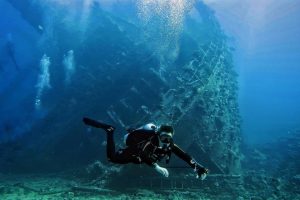 Following Abu Nuhas we headed north to the Thistlegorm, sadly not via the Rosalie Moller as planned, but given the pretty wild crossing the correct decision I feel.
Our first dive on the Thistlegorm was a dusk dive… and what a wreck! The next day was spent in awe of the Thistlegorm with most of us making best use of the time on the wreck to explore the holds full of motorbikes, trucks, guns and ammunition and the exterior of the wreck including the locomotives that lay on the seabed just to the side of the wreck.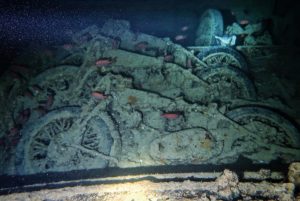 We were sad to see the Thistlegorm go, but we spend the remaining days hiding from the wind in the north of the Red Sea before heading back south towards Hurghada to dive on the newly 'constructed' diving attractions (ex-army tanks and armoured personnel carriers) which we flippantly referred to as "Vobster in the tropics" and a minesweeper 'Al Mina' close to shore.
Mark, Nick and I ended up with a surprise extra dive in search for Nicks torch which had unclipped itself on entry for the final dive of the trip. "We'll find it Inshallah" or "if god wills" I said to one of the guides jokingly before we got in, not expecting to find it, but we miraculously did! Clearly god willed it.
Back into port and on the beers for one final night before everyone headed there separate ways. Great trip with great people – can't wait for the next one!
Sadly we couldn't get down to the Brothers Islands, the Salem Express on this trip… but if theres a reason to go back that's as good as any.
George – trip organiser