2nd November brought round out Annual General Meeting. Along with a report from each officer, we vote in the new committee as well as voting for our photo and club awards.
We have welcomed three new members to our committee: Liam (Secretary), Grace (Social Sec) and Steve (Boat Officer). Stephen takes on the new challenge of Chairman, while George moves to training officer and Emma becoming our membership secretary. Sarah, Nic and Mark continue their current positions as Treasurer, Comms and Equipment Officer. A huge thank you for Cameron, Helen, Michal, Ellie and Nick L, who all stepped down this year, for all their hard work on the committee over the years!
It was then onto the fun part of the evening – The Awards! To find the results of our photo competition – look here. After the photography awards, we go on to vote for the Club Member of the Year – awarded to a member that has made great contributions to the club across the year, and the Diver of the Year – someone who has developed the skills as a diver over the past 12 months.
Brian won Club Member of the Year for his incredible dedication to supporting trainees with pool lessons and quarry trips, as well as always being down the HYC with a smile on his face (and a pint in his hand).
Grace was awarded Diver of the Year for starting on her UK diving adventure this year, for completing her Sports Diver qualification and all with a wet-suit, something that we all know is amazing commitment!
Finally, we give out our Skomer Claw trophy – an award given out for the years biggest faux pas. This one is always highly contested and this year had 5 nominations: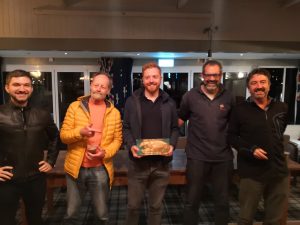 Andrew – For forgetting his regs and having to drive back to London for them on a quarry trip
Steve – For driving to Newhaven via Portmouth towing the rhib
Cameron – Shearing off his gauge when giant striding in Pembrokeshire
Nick – Forgetting to attach the boat to the trailer properly
Paul – For jumping in with his dry suite zip undone
and the winner is… Cameron (and here he is presenting the award to himself)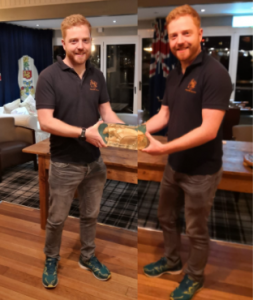 Another fantastic year for Putney BSAC – here's to many more!