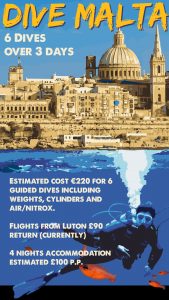 We flew into Valetta on Thursday 17th Nov to forecasts of thunderstorms, windy conditions and generally a poor diving outlook, but Henry & Grace had arrived the day earlier and reported good weather.
For anyone who hasn't been to Malta before, being an old British territory, it all seems very familiar but with air temperatures of about 23-25° and not dissimilar water temperatures this was going to be a pleasant end to our diving season. Originally the trip was planned for Gozo but the travel time to get there and the claim that at this time of year there were more places to shelter from the Nov winds, made the main island of Malta the final destination.
We had a big complement of 12 divers and one non diver and were all picked up from the Alexander Hotel on Friday morning and driven to the dive centre. 'Divewise' was a short walk away from our accommodation in Paceville, near St. Julians Bay. Viv, the owner of the centre had been a joy to deal with via email in the setting up of this trip and we were formally introduced to her and our guides Mike, JR and Yarick.
Dive 1, was right in front of the centre in what I believe is called Il Merkanti Bay. This was really a checkout and weighting dive but it was great to again get into a Mediterranean azure sea with fantastic visibility.
Dive 2 was a short drive to Valetta where we dived just under the huge fortress walls that surround Valetta. We dived HMS Maori, a 115 metres long British destroyer that sunk in Grand Harbour of Valletta by German air raid attack in February 1942. It's pretty broken up and lying in 15m of water. Nothing particularly notable about this wreck but still novel in that we were getting into the water from a pretty historic vantage point.
Having being warned about the worsening weather conditions for the next few days, we were offered the opportunity to hire a more traditional boat and travel to the small Island of Comino, the following day.
Dive 3 was easily the highlight of the trip even though I had dived Santa Maria Caves, Comino, a few years ago. The caves are approached by boat and some entrances to differing parts are pretty narrow but they widen quickly on the other side for those who might think that claustrophobia might kick in and it's reassuring to know that your guide has done this many, many times before. Because of the complexity of caves, arches and overhangs, the team of divers look pretty spectacular framed against the light streaming in from where the cave opens to the sea again whilst swimming with an abundance of sea life.
Once back onboard and rested with some packed lunch we headed back to the main island for Dive 4, a somewhat slimed down version of what we had already done but equally interesting. I believe the site of these caves is called Mellieha Bay. Before leaving for the evening, the dive centre had warned us with the increasingly poor weather, the following days diving might be cancelled.
As you can imagine, diving wasn't the only pastime in Malta. It also has a bustling nightlife with decent restaurants and bars and it's not terribly expensive, but then again we are a London club so its all relative, I suppose. We were also in the middle of the Autumn Nations Rugby Tournament so an evening by a large television screen was not unwelcome.
On the last day we were pleasantly surprised to have been offered 2 dives at Marsakala in the South of Malta, despite the weather forecasts. Brian had decided to sit out the Dive 5 as the entrance to the water looked a bit unstable and as the rain came on it looked like he made the right call. The other 11 divers entered the water in what looked like a giant squadron format and we kept at about 12 m depth until directly above the first of the tugboats in order to preserve air. There are three boats in this site, the St. Michael and No 10 tugboats as well as a more modern boat, the P33 patrol boat that has suffered more from wave action and is quite broken up even though it was scuttled as recently as 2021. We had been warned that the vis was not going to be so great but were pleasantly surprised. Everything appeared to be very calm underwater and we had a long swim back from the wrecks, slowly following the rising slope of the sea bed. Calm, that is, until we decided to surface near the shore where a hand rail was conveniently installed to aid divers. I was reminded of those documentaries about wild weather as above water it looked like a hurricane had just descended on our exit plan. Extremely heavy rain and strong winds meant slow going on the last bit of the swim to shore but more importantly the visibly was hampered by the wind and rain on the sea so it was difficult to keep a check on other divers to make sure they had all got out safely. Having done this once or twice before the guides had anchored some rope to the handrail which once spotted made things a bit easier.
I had an easy decision to make for the second dive which was going to be the on the second tugboat. JR, the guide asked me what I wanted to do and I was quite happy to call any further diving off. After changing in the local facilities and rushing to our vehicles, Brian & Mark returned with hot coffees for the windswept team. What fine fellows!
Might be worth posting some of the costs should anyone need to do research for further Malta dives. This was a Nov. 2022 organised dive with Divewise dive centre at a cost of €210 per person. The boat as an extra to reach Comino at €35 p.p. A twin room was around €85 p.p for 4 nights, breakfast included.
Credit – Paul (Trip Organiser)