When Tim Watson organised a trip to St Abbs, I thought it would be perfect to add the Farnes on to the end of trip as we have travelled so far and the Farnes only being about 40 minutes away from St Abbs in Scotland.
So, with accommodation and the boat booked with Sovereign Diving, 6 of us who were on the St Abbs trip finished diving on the Sunday and made our way to Seahouses to find the accommodation. We were surprised by just how nice the accommodation was as not that expensive and the breakfast was great as well. After a few beers in the Old Ship and some food, we were joined by Nick Harrison who flew into Newcastle airport and was picked up by Mark.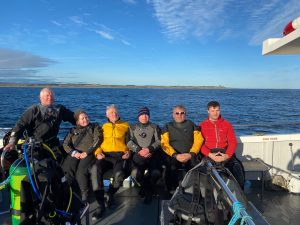 Monday 17th October
The weather that hadn't been great in St Abbs was still with us but we did manage to get out to the Farnes and we are so glad we did as had a brilliant 1st dive with everyone reporting loads of interaction with the seals, the 2nd dive at the same location due to the weather, saw seals right at the start but then they all disappeared we think they sensed the weather that was about to come is as when we got top side the weather had deteriorated and the journey back to Seahouses was not direct as usual but going close to Bamburgh Castle where so we all checked our eyesight. The evening was followed by a fish and chip supper and a few beers.

Tuesday 18th October
With the weather still not great but much better than it was coming back the day before and a change of Skipper we once again headed out to the Farnes but this time to a different location and had another wonderful dive with the seals (Nick Harrison seemed to be the trips Seal magnet), the 2nd dive was at the same location but we were advised to 1st swim along the wall in the opposite direction this allowed us to see a little bit more life before returning to play with the seals which were out in force once again. This was followed by the obligatory last night curry and a couple of drinks in the Old Ship.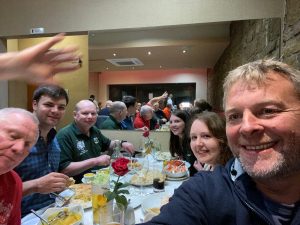 The seal crew.
Nick Harrison, John Heagney, Mark Glowrey, Byron Nurse, Helen Lacey, Brian Long and Emma Spring
Credit – Brian (Trip Organiser and Chairman)