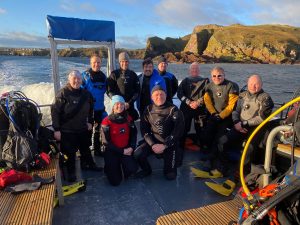 It's been five years since Putney BSAC last visited St Abbs, a quiet harbour village in the Scottish Borders. As a club we have been there many times before but this was an opportunity for a new generation of club members to dive at one of the best scenic diving sites in the country. It's marine reserve with a large number of reefs teaming with life.
One of the most famous animals is the elusive wolf fish, a dark stone fish that hides amongst the rocks. Some divers will visit St Abbs several times before getting their first sighting. Of course John and Brian saw four on their first dive, and practically tripped over them on every subsequent dive.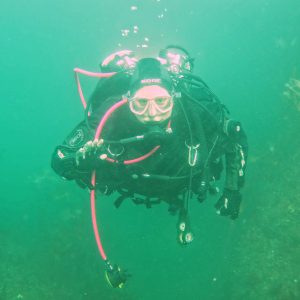 Of course St Abbs other great diving feature is the 10 min journey time to the dive sites and a 10m walk from the accommodation to the dive boat. Surface intervals in a warm cafe and a late ropes off time will please any diver.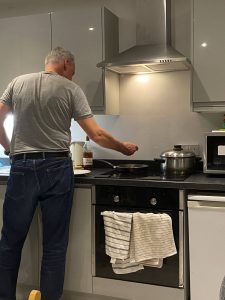 The relaxed diving pace gave us plenty of time in the evening to relax. On the Saturday Mark generously took on the role of group chef and cooked us a fantastic spaghetti bolognese. Michal jokingly made a flippant remake about wanting crepe suzette flambé for dessert not expecting anything to come of it but Mark wasn't going to step away from a challenge. So we were all treated to delicious French dessert Scottish Borders style.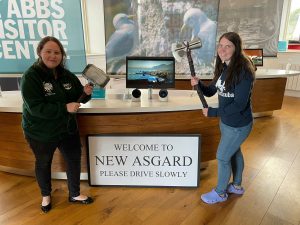 Since we lasted visited St Abbs has become famous for something else other than diving. It was the filming location for New Asgaard in Avengers Endgame. The village museum boasts a replica Mjolnir and Stormbreaker (Thor's hammers) which tourists can be seen posing with for photos on the cliff edges. Of course we didn't miss the opportunity to pose with them as well.
All in all another very successful dive trip, with some great diving and beautiful scenery above and below water. It's a long drive but it's well worth it.
Credit – Tim (Trip Organiser)