Putney SAC gets deep and technical… almost!
Friday night we had the trio of BSAC clubs meet up in Castletown, Portland ahead of the day's diving. My Dad – Mike, Jamie & Mark (all from Warrington SAC), and Charles & myself (Putney SAC) risked it all heading to Balti Island for a nice curry before meeting up with Mark & Andrew (also Putney SAC) and Cat & Andy (from Richmond SAC) in the Little Ship for a few pints and a recap of the plan for Saturday.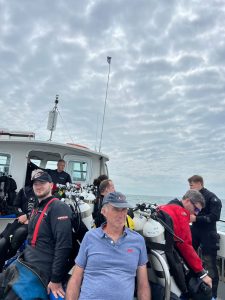 Saturday was beautifully sunny and we met Richard and Sue aboard Weychieftain IV at an unusually pleasant time of 09:30, a rarity for our normal Weymouth trips. Richard was flabbergasted! "I've not seen a boat full of twinsets in years" – in reference to the usual split of clubs either chartering the boat to dive the Weymouth/Portland classics on single cylinders or the proper techies out doing the mid-channel stuff on their rebreathers. We even made it onto Weychieftains' Facebook account for the pioneering techies to reminisce about their twin-20s and presumably now their back problems!
Anyway, enough about the gear – we headed out down the east side of Portland bill, just off the shambles bank to dive the Ethel, a British Steamship (88m long, fitted with a triple expansion engine) that was torpedoed by UB-104 on the 16th September, 1918, en route from Rouen to Barry. She sits in around 36m and is a great dive in her own right, but is particularly good as a check-dive/build up to the Salsette (which is what we had planned).
I was diving with Mark and Andrew, and the other buddy pairs were: Mike & Charles; Cat & Andy; Jamie & Mark. Mike and Charles were first in with their 80% deco stages with a solid bottom time planned, soon followed by Jamie and Mark with their stages, then after a couple of minutes, the rest of us jumped in. Lots of life (apparently) and a nice set of boilers later we ascended for a few minutes of decompression before boarding Weychieftain and heading back north for shelter in Balaclava Bay with a hot drink and some jam donuts.
Sadly the wind had picked up over the morning and was getting quite blowey. We quickly got kitted up after our surface interval and jumped in for a drift across Bally Bay. A varied experience between buddy pairs – Mike and Charles came up with more Scallops than air left in their cylinders (well Mike did… poor example from my father there!) and they also saw a lone octopus tentacle swimming along. On the other hand Mark, Andrew and I went for possibly the slowest drift I've done in my life and to make things worse Andrew lost his GoPro (ouch!).
After a good amount of time looking for Andrews GoPro on the surface, we had the windy ride back to Weymouth with the realisation we weren't going to get out at all on the Sunday, let alone to the Salsette – our primary target and a jewel of south coast wreck diving. Sadly my curse from Swanage was back and we were blown out from diving this beauty.
The sad news from being blown out again and Andrews GoPro in conjunction with the blisteringly hot day we had had, meant we were certainly due some dirty food and a few beers at Billy Winters bar and grill. This quickly turned into a night out sampling a few too many beers in the Little Ship until the early hours of Sunday… almost going back to the old days of the club, where the drinking:diving ratio was certainly in favour of the booze!
After a slightly groggy start to Sunday, Warrington SAC headed off on the long drives back north and the others back to London. Charles and I headed for a quick fry-up on Chesil Beach, looking out at the white caps pondering what could have been… we'll get you next time Salsette!
All-in-all a great weekend away, great company and great to be out diving with 3 cracking BSAC clubs! Sadly we can't plug the Richmond club for obvious reasons (obviously we're the best club in SW London!) but if anyone finds themselves in the North West, check out the Warrington SAC.
Credit George (Training Officer & Trip Organiser)