Kindly organised by our TO, George, a crew of PSAC divers headed down to Swanage for the weekend of the 25/26th June with a plan to dive the Carentan and the Aeolian Sky on the Saturday, and the Kyarra on the Sunday. The trip was also part of the "work up" for the diving later this year with divers practicing both deeper dives and accelerated deco with EON 80% stages.
Sadly, the weather had other plans and the skipper of the Mary Jo had to cancel Saturday's dives due to increasing wind and sea conditions. However, local conditions in the bay were not bad and the club enjoyed some under-pier diving, albeit somewhat over-equipped with twinsets, Nitrox 32 etc in what was at times a chest-deep environment.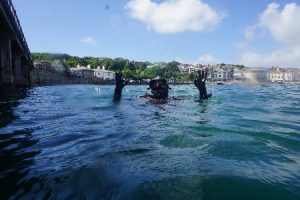 The weekend was certainly not wasted with a couple of under-pier dives, evening drinks on the roof terrace of Gee Whites and a pretty decent dinner at the Anchor Inn. As a Dive Leader trainee I was also able to gain valuable experience as top cover, and as deputy trip organiser, as well as participate in the Practical Rescue Management session on Sunday. The latter was ably run by Charles Denby and George and assisted by new member and instructor Jack.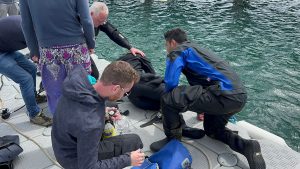 Thank you to George for organising, and all the instructors for the as ever generous time and patience.
Last but not least, shoutout to George and Liam who managed to discover Swanage's only nightclub and were "largeing it" until the early hours of the morning.
Credit – Mark (Equipment Officer)