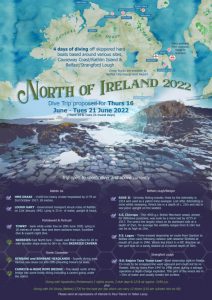 We spent our time mostly diving on the South Coast so diving in the Atlantic was certainly an  interesting prospect. We had proposed doing this trip with Aquaholics on the Northern Ireland  North Coast a year earlier but Covid scuppered those plans. Helen had recently moved to Ireland  so we decided to split the plans between Belfast Lough and the Causeway Coast, named after the  nearby Giants Causeway. The group of 10 divers split initially into two groups, one accommodated  in Bangor and could explore Belfast before the dives and the other based on Carlingford Lough, a  good base for those who fancied visiting Dublin and doing some outdoors pursuits such as hiking &  kayaking etc. 
The first dive in Belfast Lough was a bit of a shock to the system as while people in London were  experiencing 36°C temperatures, we had rain and hail on Belfast Lough and about a metre of vis  on the first dive on the SS Troutpool. It did improve though markedly on the second dive.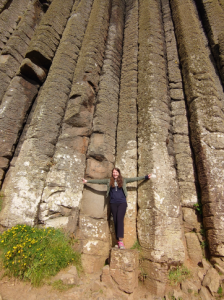 At the end of day one we drove to Ballycastle on the Northern Ireland Coast. The landscape is very  dramatic up there, home for many location shoots for 'Game of Thrones' etc with impressive cliffs,  and big rollers coming off the Atlantic. Our accommodation was in the suitably named 'Aqualodge'  which had a large garden and a very modern fit out mainly aimed at the diving fraternity. Equally  impressive was the proximity of the hard-boat just across the road in the marina which was the one  of two bases for the Aquaholics dive boats.
We had 2 reef or wall dives around Rathlin Island which because of it's shape usually offers some  shelter from the winds but by far the most impressive dives on the North Coast was on the Lough  Garry, a wreck standing upright and very much intact at 32m with about 20m vis. 
I for one wasn't looking forward to diving back in Belfast Lough after the diving up North but was  more than pleasantly surprised when we had decided on diving on the SS Chirippo and diving with  DV Diving. The wreck lying on it's side with the hull exposed was covered in dead man's fingers  and coral and the vis was superb, allowing for a great end to our diving in Ireland.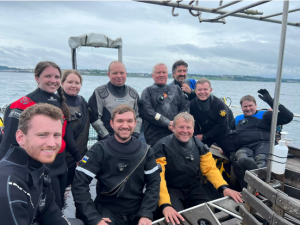 The Crew: Paul, Helen, John, Aidan, Brian, Emma, Jack, Andrew, Michal, Byron Organisers: Paul & Helen.
Credit Paul (Trip Organiser)