After being asked if there was any diving for Ocean divers in April in the coming months. I rapidly setup up a dive for Ocean divers and above out of Newhaven for the 29th May. With a couple of weeks to go before the dive the Newhaven skipper called to say he had sold the boat, so we were left high and dry. A quick look around and a Facebook post and we were back in business on Aquanaut just a little further west along the coast in Littlehampton.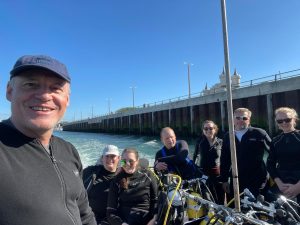 So early on Sunday the 29th May, 8 of us met up at Littlehampton the sun was shining as we left the harbour and headed out on the hour steam to the Concha wreck once there and all kitted up it was in to the water. As we made our way down it was clear (or not) that the visibility was not bad, but a plankton bloom was upon us reducing the overall visibility. The Concha is well broken up wreck with the main area being the boiler another structure that none of us could identify and a small prop at the stern. The wreck was full of life with Bib/pouting, crabs, tompot blennies, lobsters (one large one), squat lobsters, congers, a nudibranch and for one lucky dive pair a fair size cuttlefish.
The 2nd dive was on the Waldrons reef just outside Littlehampton harbour is a nice little drift with plenty of life. Highlights included Dogfish (Catshark), thornback rays, ballan wrasse and tompot blennies.
The Crew
Anna, Brian, Byron, Emma, Helen (Guest), Mark, Michal and Nick Harrison.
Credit – Brian (Chairman and Trip Organiser)