After a week's delay due to high winds, eight Putney BSAC members drove to Selsey East beach for a day by the sea and two shore dives. We based ourselves just east of the existing lifeboat centre and walked the kit from the road to set up ready for the first dive.
After a dive briefing, the first wave started ~ 9am, this was aiming to be roughly 4 hour before high water scheduled at 12:15. It was a good first dive for all, with plenty of life including many spider crabs and also a juvenile ray and a cat shark. As high tide was approaching, exiting after the dive was manageable and the group enjoyed the surface interval lazing in the sun. 
We waited patiently for the current to stop running, with the recommended dive time of 3 hours high tide, the second wave started at 2:30. Another good dive, with slightly better vis (almost 5m), with more crabs and cat sharks and even a pipefish found showing the variety of life you can see at just 5m depth. The downside of shore diving was more obvious on the exit of the second dive, with low tide on its way, it made for a long and tiring walk back up the beach to dekit.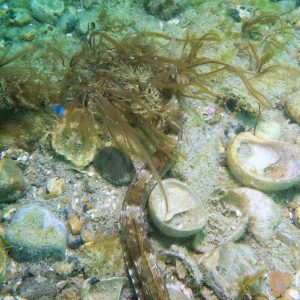 It was a successful day and a good way to get ready for the UK diving season. Note to self – you can burn in April in the UK even if it's only 12degrees.
Credit – Nic (Comms Officer and Trip Organiser)