Second week of April seen our club on first sea diving trip to Swanage. Weather forecast was not great, and temperatures were low, weather changed and we had a lovely sunny weekend, temperature not so much and we had to scrub the ice on car windscreens in the morning… 4 dives conducted – Valentines tanks and Fluer de Lys on first day is classic Swanage diving day in the bay with lots of life and surprising okish vis.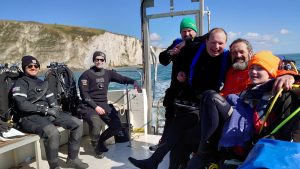 On Sunday we went out to SS Clan MacVey wreck, which was a wreck that none of us dived before followed by a drift over Peveril ledges + done some scalloping (where in total we collected £100+ worth of scallops, under watchful eyes of skipper Bryan to make sure all were well above the landing sizes – so big success as well).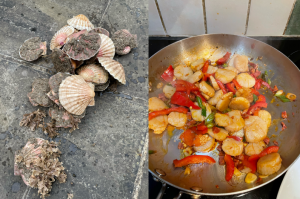 Nice weekend with lot of fun (although most on my costs as usual)… Elodie finished her Ocean Diver qualifying dives and Andrew the same for Dive leader – well done to both. I must say that diver of the month goes to Elodie who braved the dives in the wet suit and did really well, more over Elodie also mastered perfectly (i.e. confidently and assertively) her first time as assistant dive manager! Well done Elodie (although next time Elodie pls pls go to pilot house between the dives – I was freezing just by looking at you) !!
Many thanks also to Bryan from Swanage boat charter who skippered the Viper and also crew in Cumulus Outdoor center where we felt well looked after (I will not quote all pubs we visited during the weekend – it would be long list…). Lastly but not less importantly – some people though need to think about their behaviour … – no Nick – its not ok to steal the DSMB from your DO during the dive and trying to nick his scalloping bag as well !!!
Credit – Michal (DO and Trip Organiser)