A few members of the club have been interested in progressing our diving to longer bottom times, and the deco requirements that come with that. The opportunity to learn to use a richer gas mix to reduce the amount of deco time was something 3 Putney divers were keen to explore.
We booked onto a weekend course with the BSAC wales region, to be held at NDAC, along with 4 others from various other BSAC clubs. After completing the online lectures we were ready to go!
The first day started with learning how to mark up the stages and checking out the various equipment configurations, followed by an in water skills lesson. Great to recap some skills as well as learning the gas switching procedure. Second dive of the day was lead by the instructors, taking in the highlights of NDAC and a gas switch on the ascent. Having learnt a huge amount we retreated to the gurka curry house for a well earned rest and some time to contemplate everything we had learnt.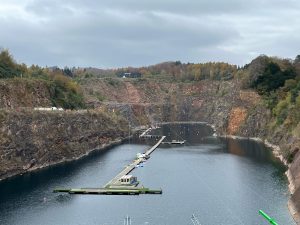 The second day was the time to put everything we had learnt into practice. Cam and I had a solid dive plan, neatly written up in our wet notes and we were ready to go. The dive went really smoothly and we had clearly learnt our lessons from yesterday, gas switching was much smoother and the deco stop much more controlled. Following the post dive debrief we were delighted to hear we had met the requirements and passed the course.
Overall ADP was an interesting course and would recommend to others looking to accelerate their deco. Really interesting to switch to a more technical mindset, where planning and preparation are even more important.
Many thanks to all of the instructors (5 instructors to 7 students!) and especially to Mark Lewis for leading the course.
Credit Charles