Three members (including myself) enjoyed a day on the club RHIB in late August. The objective was to take Putney Diver upriver, enjoying a day on the Thames and getting in some boat handling practice and hours logged. The latter is useful for members who wish to aim for a BSAC Coxwain qualification; note that 5 hours PQE is required after the Boat Handling course.
Brian, Nancy and myself met at the HYC to check and hitch up the boat, all of which is useful practice for divers following up from their boat-handling course. Launching on the flood at the Putney embankment, the boat crew circled back to the pontoon at the HYC to pick up the tow-crew before heading up-river.
We passed under the newly-reopened Hammersmith Bridge and spend some time practising low-speed manoeuvres and coming alongside at Chiswick pier. Somewhat embarrassingly this was in front of the RNLI station, who are much better at this sort of thing than us.
Steady progress was made upriver, the scent of Himalayan Balsam wafting from the banks and bird-life aplenty.  The sluices were open as we passed through Richmond lock and we were close to high tide as we neared our destination; the White Swan at the downstream end of Eel Pie island.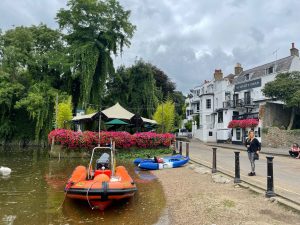 This a top pub; great beer and importantly easy access and mooring. Nancy and I enjoyed battered haddock and chips, Brian had a healthier option.
Post-lunch we made the short journey to Teddington lock, catching the start of the ebb-tide for our return.
Returning via the HYC and the embankment, we thought we would make the voyage on one tank, but a last minute change was required for basically the last 500m. A visit to the Sainsbury's petrol station on the way back topped up the tank. On that point, it maybe advisable to use E5 "premium" petrol for the boat. The effect of the new E10 (10% ethanol) on two-strokes is uncertain.
Note that Putney Diver is available for use by suitably-qualified members. We had a great day and I can thoroughly recommend the upper river, even when no diving is involved. 
Credit – Mark (Equipment Officer)