We were lucky this year to get two slots on the Wey Chieftain IV, the second being the 26-27 June. This weekend was a spring tide but not a big one, so we planned on diving the Benny, the M2 submarine and a couple of drifts.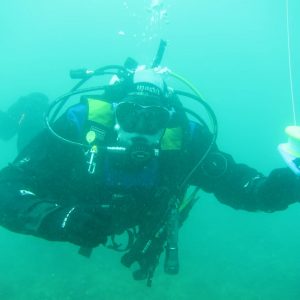 On Saturday we headed down to the Benny wreck for just over half an hour at 27m. The vis was a little worse than our May trip, around 4m, but plenty of congas and lots to see. We followed this dive up with a drift between White Nothe and Bats Head where there were plenty of crabs, leverets, as well as a conga eel just sitting out in the open!
Sunday's weather looked debatable but due to the improving forecast throughout the day and the shelter of the M2 (32m), we were able to get out for the day. There was loads of life on the M2, the submarine war grave, including shoals of bib fish and massive conga eels hiding about the submarine. She was a fantastic dive, virtually intact, with the conning tower rising about 9m high. We then chose to dive the James Fennel wreck (16m) rather than a drift for the second dive. The vis was great (8-10m) and the buddy pairs managed to find the other pairs (by accident rather than design!) during the dive. There was loads to see, from lots of crabs under the massive rocks amidst the wreckage, to the large engine boiler.
Credit – Helen (Social Sec & Trip organiser)