Third time lucky for our planned trip to Weymouth on the Wey Chieftain IV, first moved due to Covid and second due to weather.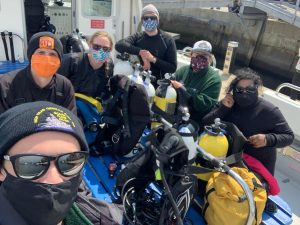 On the Saturday morning we headed out and dived the Binnendijk wreck (26m). Known as the "Benny", she caught fire after striking a mine and was alight stern to stern. Vis was much better than is usual for the Benny, around 6m, but getting on for chilly at 10oC! Lots of conga eels. We followed this wreck dive with a fast drift dive in Balaclava Bay where we saw lots of crabs and scallops.
On the Sunday we dived the Alex Von Opstal, a Belgian Passenger liner sunk by a mine in 1939 (30m). The wreck was quite broken up and vis was poor. This was followed by a drift dive along the Sandy Ledges where there were so very many scallops!
Unfortunately the weather turned on us for the Monday so we had an early celebratory dinner for Helen achieving her Dive Leader qualification, with this trip being the last piece of the puzzle as the DP2 module. Thanks to Charles and Nic for the (alcoholic) bubbles!
Credit – Helen (Social Sec & Trip organiser)