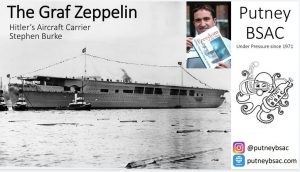 To mix things up during lockdown, Putney reached out to a contact known through Warrington SAC up in the North West.
Ste Burke, an accomplished Technical Diver & Author of two books (& my BSAC Snorkelling Instructor from the early 2000s!), took us through his extensive research into Hitlers lost aircraft carrier and his long awaited dive on Graf Zeppelin.
This is an extremely interesting wreck and a fascinating story for anyone interested in WW2 history, shipbuilding or Technical Diving… not too much for the fish huggers in the Baltic though I'm afraid.
Credit – George (Membership Secretary & talk organiser)