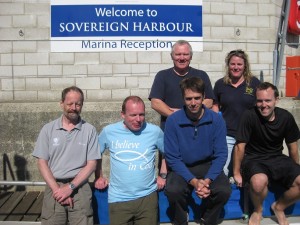 With a crew of eight people due to dive out of Eastbourne for the one day of Sunday 11th August, only six of us actually were able to make the trip, as Michal came down with a virus, and Phillipa's feet haven't grown any bigger since the Swanage trip last month, so her drysuit still doesn't fit too well. A forward party of three (Sasha, Brian and Steve) had already driven down the night before and stayed in a luxurious hotel.  They of course (as is tradition) went out for a Thai meal and finished off the night with a couple of beers……. this of course was undertaken for medicinal reasons, just to get themselves off to sleep.
Rumour has it , that it was an old people's home, and that Steve was asked if he was a visitor, or a permanent resident…………..only kidding Steve!
Anyway, an intrepid crew of six finally turned up at Sovereign harbour Eastbourne, and had to load the boat during a down pour of of biblical proportions….slight exaggeration here, but a bit of poetic writers licence makes the article a little more interesting….
Anyway, once on board, we were "entertained" by the wonderful and welcoming skipper/partner Silvia, who made us feel more than welcome and relaxed…..
The sea was a little lumpy going out to the wreck, which made more than one of us feel a little sea sick, but we all managed to keep our food down, and no one threw up…..for the moment anyway! On the way out, we encountered a little alternator problem with the boat , which then threatened to curtail any diving for the day, but it was quickly fixed by the other skipper/partner Dave, who managed to save the day and changed some drive belts in the engine room.  We finally got over the wreck of the "Alaunia" in about 29 metres and all dropped in to find some brilliant visibility and wonderful light on the wreck.  The water was a nice blue/green colour and free from any algae, something that we haven't had for a very long time, at least for the past two seasons.  The pairs were…….Steve & Brian…..Tim and Sasha……….and Rylan and myself.
The dive turned out to be a cracker, with masses of fish life, pouting, pollock, crab, conger, lobster (one reported)…just a very nice dive.   Our second dive on the "Dagon"………. an armed trawler-man,  four hours later,  also turned out to be cracking dive, even though the vis wasn't quite as good… All in all a very nice days diving…… "Roll on Porthkerris on the 30th"